In another blog post, we discussed what many typical insects do to handle or avoid the ravages of winter. For the vast majority of insects, winter is a trying and dangerous time of year – a particularly deep freeze may reach them even deep in soil or under debris, a late spring may cause their fat stores to run out before spring, or a series of freezes and thaws can cause them to get out of "winter mode" only to be caught unprepared by a later blizzard. But some insects brave the cold and relish this season when parasitoids are absent and predators or competitors are scarce. These are among the best adapted "winter bugs," and may be seen outside on sunny winter days when the temperature is just a few degrees below freezing.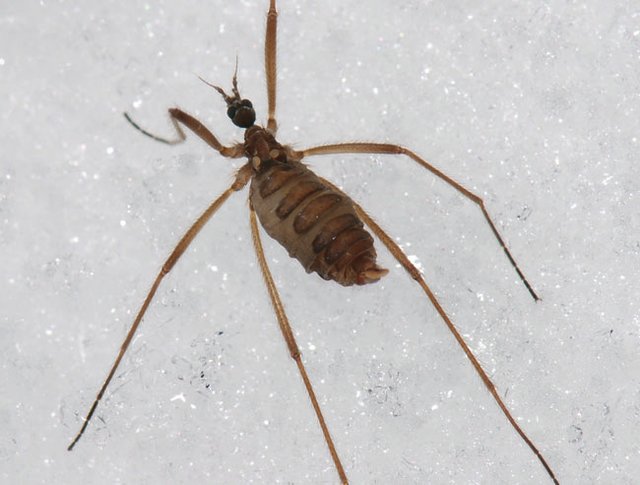 Snow crane flies (Chionea spp.) – bearing little resemblance to their summer-active cousins, snow crane flies are nearly wingless, with the front wings missing completely but the halteres (reduced, drumstick-like remnants of the hind wings) still present. While typical craneflies have extremely long, delicate legs not suited to much more than perching, snow crane flies have relatively sturdy legs, the better to scamper around over snow and ice in search of mates or egg-laying sites. They can remain active at temperatures as low as 14oF. Their life history is mostly unknown, but collections of them near rodent burrows suggests that there may be some sort of association going on. If we attempt to infer based on the life cycle of more typical crane flies, it is likely that adults do not eat and focus entirely on finding mates and ideal egg-laying sites, while the larvae are likely to live in soil or debris, feeding on organic detritus, smaller invertebrates, fungi, algae, and/or plant roots. Temperatures above the low 40s are too hot for them, and the first time I encountered one of these insects I accidentally cooked it to death with my body heat simply by picking it up and observing it on my hand for a few minutes.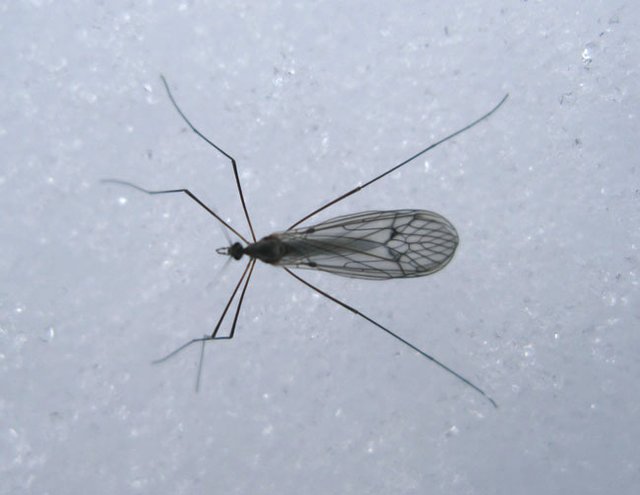 Winter crane flies (family Trichoceridae) – these small-to-medium-sized crane flies may be seen perching on snow, or on warm enough winter days, flying over it. Besides their adaptations to cold environments and some flight limitations due to low metabolic rate in at very low temperatures, these largely behave similarly to their summer-active cousins.
Snow scorpionflies (family Boreidae) – these insects are also sometimes called snow fleas for their comparable size and jumping ability to the true fleas that might afflict your cat or dog. In fact, studying the jumping mechanism and elastic leg protein resilin in the two insects revealed that snow scorpionflies and true fleas are one another's closest living relatives, which technically makes fleas a highly specialized form of wingless scorpionfly. Snow scorpionflies are usually black and may be either completely wingless or have reduced wing stubs. They have long antennae and a typical scorpionfly face, with a long downward-pointing snout tipped with a tiny set of chewing jaws. Females have a long, pointed ovipositor at the tip of the abdomen, while males have a set of claspers at the tip of the abdomen. Larvae look like small grubs, with the rear four legs thick, fleshy, and oriented out to the sides, making them look sort of like teddy-bear grubs. They are usually found around mosses or liverworts on relatively warm, sunny winter days, where they are presumed to feed on the mosses, algae, lichen, and potentially springtails.
Snowfleas (Hypogastrura nivicola) – unlike the snow scorpionfly, which actually is very closely related to true fleas, the snowfleas are technically not even insects, though they are tiny six-legged invertebrates. Snowfleas have their mouthparts enclosed within their head and have soft, pudgy bodies. They are very dark blue, almost black, and contrast strongly with the snow on which they often crawl and jump. Also unlike the snow scorpionfly, which jumps using elastic proteins in its legs to slingshot itself skyward, the snowflea jumps using a "tail" that is essentially an upside-down catapult. At rest the tail is tightly folded under the snowflea's belly, with the tip tucked into a little "latch" at the base of the abdomen. When it is frightened, the snowflea pushes down with its tail, and when it finally exerts enough force to push it free of the latch, it slams into the ground hard enough to catapult the snowflea into the air. Snowfleas mainly feed on moss, lichen, and algae or bacteria that grow on the snow.
Fall cankerworm moth (Alsophila pometaria) – this moth is more of a late fall specialist than winter specialist, but most adults that I've found were out and about from late October to early December when temperatures ranged from 25-35oC. This moth is a member of the inchworm moth family, and its caterpillars can have outbreaks that cause damage to hardwood trees during the spring and summer months. Adult males look like typical grayish inchworm moths, which are among the more butterfly-like moths, and are quite unremarkable. Adult females, on the other hand, have tremendously reduced wings and fat, fluffy bodies. The wings may be too small to even poke out through the body fluff, so the moth looks like a little gray puffball with 6 legs and antennae. Adults do not feed and only live long enough to mate and lay eggs.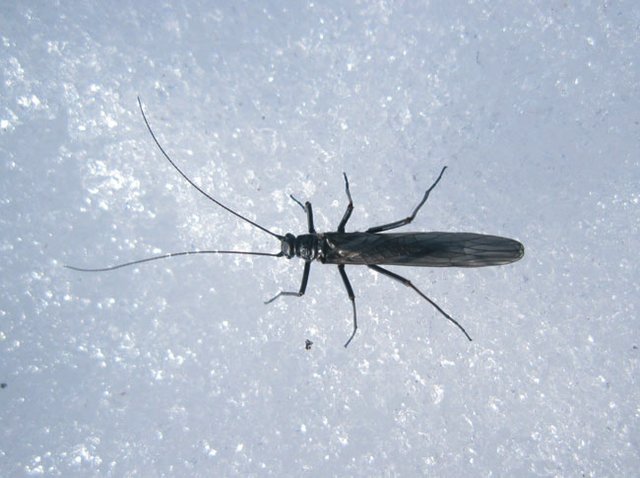 Spring stoneflies (families Capniidae and Taeniopterygidae) – these primitive insects are associated with water; their young have gills and live in rivers, streams, and well-aerated lakes or ponds, and the adults are too immobile stray very far from water. They vaguely resemble tiny black cockroaches, but their wings are not as leathery and have a different vein pattern (they've always reminded me of wafer cookies) and their legs are shorter, slower, and not covered in spines. Adults may drink snowmelt and nibble bits of moss or algae, but they mainly just mate and lay eggs before dying. Spring stoneflies can be observed emerging from holes in the ice on bodies of water that house their nymphs from February through April, depending on weather conditions, and adults often congregate on nearby trees, bushes, or bridge pilings. Most stoneflies have long wings that completely cover the abdomen, but spring stoneflies have short wings that leave about half of the abdomen exposed, and they cannot fly.
Aquatic insects – many aquatic insects remain active under the ice all winter long. Because the frigid temperature slows the insect's metabolism, the insect does not need much oxygen to survive. Additionally, colder water can hold more oxygen than warmer water. These two factors mean that even insects that would normally need to surface periodically for a fresh breath of air can switch to getting all of the oxygen they need from the water in which they swim. While aquatic insects can often continue with business as usual under the ice, they generally do most or all of their growing and reproducing during the summer. That is because winter greatly slows down their metabolism and food is scarce during winter.
Each of these winter bugs has specific adaptations that allow them to survive in sub-freezing temperatures despite being cold-blooded animals. These adaptations mostly involve saturating their hemolymph (bug blood) with antifreeze proteins, sugars, or even ethylene glycol (the same antifreeze you use in your car), and studying how these bugs survive sub-freezing temperatures may lead to developing new antifreeze technology. Because the low temperature guarantees a slow metabolism, none of them can fly, and those that jump use tension-based mechanisms (basically slingshots and catapults) rather than muscle power. Aside from the fall cankerworm, whose larvae can be tree pests in spring and summer, these bugs do not cause any harm and simply trying to go about their lives. Therefore, if you see them in landscaping or on exterior walls of buildings, you can rest easy knowing that these bugs are winter wildlife rather than invading pests.