Bed bugs. Just mentioning the name causes deep concern for people, for many are still not sure what they are, where they come from, and how to prevent them from being introduced into your home. Because of increased travel abroad and people travelling here to the States, there has been a significant increase in bed bugs. However, with a little bit of knowledge on what to look for, you can greatly reduce the chance that you or your family bring "unwelcome guests" home after travelling.
A bed bug adult is a ¼ inch long oval shaped, small, wingless, flattened reddish brown bug. Nymph bed bugs are similar but are smaller than a quarter inch and look just like the adults. Eggs are visible, but are very small, yellowish-white and are approximately 1/32-inch-long and are glued to various cracks and crevices in just about any object within a room.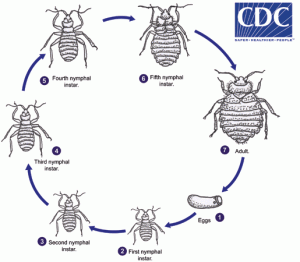 When staying in a hotel, cruise ship, or resort that has a lot of visitors, it's always important to check for evidence for bed bugs or evidence of bed bug activity. When you first arrive at your room, and before you set your luggage down, place your luggage in the tub. The bathroom rarely has bed bugs. Most bed bug activity is found and located within 20 feet of the bed. Once your luggage is secured in the tub, you can inspect the backboard, mattress, nightstands, luggage rack, and dressers for evidence of bed bugs. Using a flashlight, check the backboard looking at the seams, corners and sides looking for bed bugs, eggs, shed skins, and black speckled fecal matter. If you do not have a flashlight, a hairdryer can be used on high heat to check in and around the furniture.  Once the backboard has been checked, inspect the mattress on all sides to include the seams, eyelets and buttons for fecal matter, blood stains, and live bed bugs. Do not forget to inspect the pillows and sheets too.  Next, inspect the nightstands and dressers to include the inside drawers, sides, and back checking for signs of bed bugs. Finally, check the luggage rack especially under the straps next to the framing of the rack again looking for bed bugs, shed skins, or eggs.
If you find no bed bugs after performing this simple inspection, chances are you do not have any in the room. If you do find bed bugs, or evidence of bed bug activity, you can contact the front desk informing that the room has bed bugs and request another room located preferably away from the infested room. If staying in another room, make sure you check it for bed bug activity, for the hotel may have more than one room that has bed bugs. Another option is to check out of the hotel and find other accommodations.
Once back home from your trip, conduct a thorough inspection of your luggage to make sure no bed bugs came back with you. This can be done by placing suitcases in the garage away from furniture and sleeping areas. If in an apartment, use your balcony, tub or shower checking seams, pockets, and linings of your luggage. Once checked, thoroughly vacuum or steam clean your luggage before storage. Wash all of your clothes (even the clean ones) in hot water and dry at least for 30 minutes. This will kill all undetected bed bugs.