A fairy garden is a beautiful and enchanting accent piece for your home or garden. Fun for children and adults, the gardens are a simple do-it-yourself project. Here are five tips to get you started:

1) Plan your fairy garden.
Before creating your fairy garden, decide where you would like the garden located and the theme you will use.
An indoor fairy garden, created in a pot or other container, is great for year-round enjoyment. Another choice is an outdoor fairy garden, which can enhance the look of your landscape or existing outdoor garden.
An important but nonessential part of the planning process, choosing a theme can help simplify your choice for plants, fairies, and other garden accessories. A simple way to define your theme is to ask "what would I like my fairies to be doing?" Are they celebrating a birthday party? Enjoying a tropical vacation? Use your imagination – the possibilities are endless.
2) Determine what scale you will use.
Fairy gardens are more realistic when fairies are proportional to their accessories and surroundings. For example, you don't want a fairy to be taller than their house.
A traditional miniature ratio is 1:12. In this example, one inch in the fairy garden would represent one foot in the human world. Determining the scale you will use will help when designing your garden and building or buying accessories that best fit your project.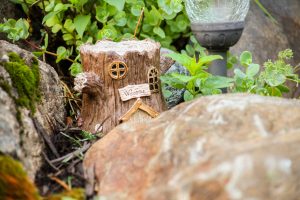 3) Choose the correct plants.
Choosing the right plants for your fairy garden is essential to its look and longevity. If your garden is indoors, choose plants that have similar watering and light needs. Remember to allow for the recommended spacing between your plants. If you're fairy garden will become part of your existing outdoor garden, your setup will be simpler because you're only adding the fairies and accessories to an existing landscape.
4) Buy or build fairy garden accessories.
You've got your plan and picked your theme and plants. Now it's time to bring your garden to life with fairies and fun accessories. You have two choices: buy or build your own. A vast selection of fairies and accessories are available online for purchase. Or, you can choose a craftier, do-it-yourself approach and build the pieces on your own. If you make the craftier choice, there are many online resources to inspire you and help you create pieces for your garden.

5) Beautify your lawn.
To enhance the look of your fairy garden, have a professional treat your lawn. Guardian Pest Solutions' lawn care services include fertilizer and herbicide, aeration, and crabgrass treatment. This helps keep your lawn healthy and free of weeds, indirectly increasing the beauty of your fairy garden.
---
Photography by Tanya Wick.