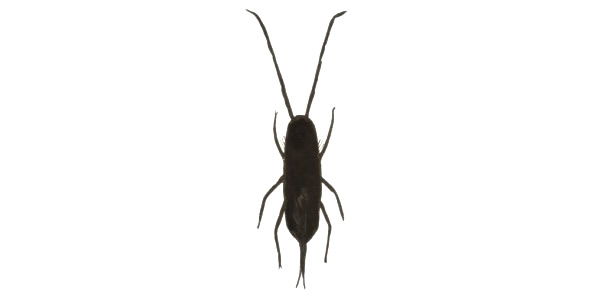 Description
Springtail has pair of fork-like appendages (furcula) in the end of its abdomen. The common name springtail is derived from its behavior of springing (jumping) away by snapping its tail-like structures against the ground when disturbed. Springtails are usually light brown to cream in colors. They are tiny (1/16 to 1/8 inch in length), wingless and require very moist condition for survival.
Distribution
Springtails are found in moist environments worldwide.
Importance
Springtails usually occur in moist soil feeding on leave litter, decaying plant materials, bacteria and fungi. They also can eat fine roots in wet to damp soils. When they reach a high population density up to 100,000 insects per cubic yard, they search for new fitting habitats; they can enter homes in large numbers and become a nuisance factor in kitchens, bathrooms, garages, surfaces of water and in other moist habitats.
Lifecycle
Springtails have a simple metamor­phosis, which means there are no larval or pupal stages. They develop by going through a number of molts as their body size growing.
Customer's Responsibility
Prevention & Exclusion
To successfully eradicate springtail problems and prevent future infestation, do the following recommendations:
Fix moisture problems inside the house. Pay particular attention to the wood window and door sills with water damage.
Repair leaking and dripping pipes
Remove mold related to water leaks
Clean up loose materials from damp floor
Eliminate any moist or organic matters
Avoid over-watering and allow the soil to dry between watering
Increase ventilation, artificial air movement from fans or use a dehumidifier
Permit proper air circulation around house foundation
Remove moist leaves, moldy wood items, compost piles and decaying vegetable matters
Remove excessive mulch. Mulch should only be 2-4 inches deep so it remains dry most of the time.
Clip bushes and ground cover
Seal cracks and crevices with caulk
Guardian's Services
Inspection
When you see springtails in the bathroom, kitchens window sills, bathtubs and showers, you should know that they have migrated from overly populated sites in damps and dark areas outside or inside the building. Guardian Pest Control Specialist will do a thoroughly inspection to locate the springtails breeding areas such as:
In mulch, moist leaves or wood chips
Under patio slabs
Under logs, pine-straw or wood dicks
Under kitchen and bathroom sinks, linoleum or water tubes
In crawl spaces and in the basements
Around Jacuzzis and decking of the pools
Any moist and dark area
Pesticide Treatments
Guardian Pest Control Specialist will do exterior and interior (cracks, crevices and spots) treatments with EPA registered pesticides targeting springtails source of infestation areas. Request a quote today.
Precautionary Measures
Guardian Pest Control Specialist will make sure to describe the precautionary measures to the customers.
During the treatment, no people, food, or pets should be present in the room to be treated.
Do not enter the treated room for four hours after the treatment.
Post Treatment Information
After the initial application, two follow ups should be conducted IF NEEDED. Guardian Pest Control Specialist will coordinate with customers to allocate a proper time for doing these follow ups.