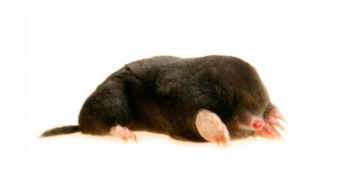 Description
Moles are very small mammals that have adapted to living a subterranean lifestyle. There are six species of moles that live in the U.S. and the most commonly seen are the Eastern mole, hairy-tailed mole and the star-nosed mole. They are approximately the size of a chipmunk and usually range from six to eight inches long, weighing between three to six ounces. Moles have velvety fur, tiny little eyes and ears and very powerful forelimbs with paws that are meant for digging in the ground. In addition to being a pest in Wisconsin, these animals can be found in most of North America, as well as Asia and Europe.
Importance
You may have moles on your property because they are finding a food source in the ground around your home. Their diet consists mostly of earthworms and other small invertebrates that can be found in soil. They will also eat a variety of nuts.
Mole aren't typically considered dangerous to humans; they will avoid contact with people, much like other mammals in nature. They will, however, create tunnels and unsightly mounds in your lawn or the property around your home. These tunnels can also interfere with the root structures of grass as well as other plants, causing yellowing of grass and depriving plants of the nutrients they need to grow. Their tunnels can weaken the earth, making it feel soft and squishy underfoot. These animals can be very detrimental to the condition of your landscaping and your lawn, but are not considered dangerous to the health of your family.
Control Methods
Getting rid of moles can be a difficult task as they are elusive creatures and during the summer and winter they will be more active deeper in the soil and thus more difficult to locate. Contacting Guardian Pest Solutions to help take care of your mole problem is the best possible solution and is certain to get rid of your mole problem safely and quickly, with little to no harm to your lawn and landscape.
There are many home remedies that have been suggested throughout the years to help control moles in a landscape, but these are very rarely effective. Suggestions like using pickle juice, broken glass, red pepper, razor blades and bleach can all be very damaging to your property and to your family and pets and these methods are completely ineffective. True mole control remedies are too complex to be performed by homeowners or facility personnel; the most effective mole control is accomplished by Guardian Pest Solutions.
Trying to discourage moles from invading your landscape can seem like a hopeless task. As long as the soil around your home is soft and there is a food source for these mammals to survive on, you could have these pests digging tunnels under your lawn, your garden and your flower beds.