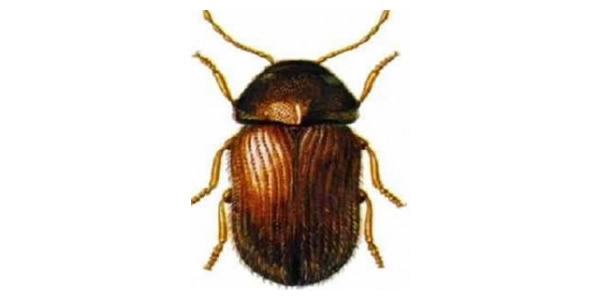 Lasioderma serricorne (F.) (Coleoptera: Anobiidae)
Description
Adults of cigarette beetle are about 1/10 inch long. It has oval shape and shiny yellowish brown color covered with fine hair. The head is often concealed by the pronotum when the beetle is viewed from above.
Importance
Cigarette beetle, Lasioderma serricorne (F.) is a damaging and annoying insect in storages, homes and businesses. It is a worldwide distributed pest that attacks tobacco and a numerous number of dried plant and animal products including spices, grains and seeds. Cigarette beetle also can contaminate and feed on furniture fillings, books, dead animals and rodent baits.
Related Species
Drugstore beetle, Stegobium paniceum (L.) belongs to the same family as the cigarette beetle (Anobiidae). It feeds on a wide variety of dried materials including prescription drugs. It can dig into books, wood products, aluminum foils and lead sheets. Cigarette and drugstore beetles look identical to untrained eyes; however, to differentiate between them, focus on the antennae and the elytra (the hard outer wings of a beetle). The antennae of the cigarette beetle are serrated (like the teeth on a saw) while the antennae of the drugstore beetle has club of 3 elongated and broadened segments. The elytra of drugstore beetles contain rows of pits giving them a lined form while those of the cigarette beetles are smooth.
Life Cycle
Temperature, relative humidity and food availability are a vital key in the development of cigarette beetles. The life cycle of cigarette beetle is completed in three months or longer depending on the above factors. In spring, females lay about 100 eggs in the food materials. Eggs hatch in about 10 days. Larvae feed for five to ten weeks and then they make protected cells using food particles and their discharge substances to pupate. Adults emerge from pupae in two to three weeks and live from three to four weeks. In warm conditions, cigarette beetles may have up to six generations per year.
Customer's Responsibility
Prevention & Exclusion
Regularly apply a good clean sanitation program
Immediately remove any spilled materials and debris in the floors, cracks, under and on pallet racks. They are sources for infestation.
Store your products in tightly sealed containers
Do not mix old and new materials
Install a 20-mesh screen on your windows, doors, and openings to prevent adults from entering
Clean, seal and caulk all cracks, crevices and hiding areas in the building
Inspection & Monitoring
Carefully, inspect all dry stored materials. Pay particular attentions to pet foods as well as to rodent and fly bait and trap stations "cigarette beetles can breed and thrive on old rodent/fly baits"
Inspect cracks and crevices where the beetle and its live stages may hide
Inspect outside the building and garage to locate any cigarette beetle host especially dried straw flowers
Install traps to help in detecting, monitoring, and locating the cigarette beetle breeding sites

Pheromone Traps

Install pheromone traps in grid patterns. Set up one trap per 100-200 sq/ft or as recommended by the manufacturer's manual/label.Regularly, examine traps and record numbers of trapped males. Increase the trap numbers where high infestations are observed to identify the source of infestation.

Insect Light Traps (ILTs)

These also could be used 24 hours a day and 7 days a week to capture flying insects including cigarette beetles. Note that adults of cigarette beetles are VERY active at dusk time.
Do NOT use ceiling mounted ILT's in food preparation areas. Electric Grid ILT's should be mounted a minimum of 10 feet from any food preparation surface.
Adhesive ILT's should be mounted a minimum of three feet horizontally from any food preparation surface
Periodically replace glueboard before it becomes clogged
Replace the UV lamp once a year or as needed
Control Methods
Apply a thorough vacuum-cleaning procedure to remove eggs, larvae and pupa throughout the facility including the cabinets and drawers
Collect infested and spilled materials and vacuum contents in plastic bags and tightly seal and dispose them in a proper dumpster outside the building
If applicable, apply heat or cold treatments for infested items. Note that certain items can be damaged when heated or frozen; check the product's label before applying heat/cold treatments. Seeds saved for planting may have the germination reduced after superheating or cooling.

Heat infested items at 140 to 145°F for six hours or cold at 36°F for 16 days, 25°F for seven days or freeze at 0°F for four-six days
Guardian's Services
Monitoring & Inspecting
Guardian Pest Control Specialist will inspect and check ILTs and pheromone traps every service visit to monitor the population level and locate feeding and breeding sources of cigarette beetles.
Pesticide Treatment
Use EPA approved residual pesticides with insect growth regulators (IGR) targeting feeding, breeding and harborage places
Spot treatments to shelves, surfaces near food storage areas, behind and under appliances and furniture
Crack and crevice treatments in pantries, closets, baseboard, door frames, window frames and other places where cigarette beetles could reside or hide
Perimeter treatment to prevent cigarette beetles coming from outdoors during the insect active time of the year. Cigarette beetles are good flyers. They live outside and fly around during warm summer months. They will readily enter homes through open doors, windows or vents.
Pretreatment Information
Before treatment, infested materials should be carefully destroyed and properly discarded outside the building
Before treatment, all food, food packages, drinks, clothing materials, tools, dishes, etc. should be removed from the cupboard, shelves or storage area
Precautionary Measures
During the treatment, no people, food, or pets should be present in the room to be treated. Fish tanks should be covered and the air shut off. Plants will not be affected.
Keep the treated area closed and do not enter before 2-4 hours after treatment
Treated area should be thoroughly ventilated before re-entry
Anyone with a respiratory condition should notify property manager and the Guardian Pest Control Service Specialist
Post Treatment Information
A follow up treatment evaluation is recommended after two–three weeks from treatment
Apply the recommended prevention methods mentioned above
Continue inspecting and monitoring for new infestation