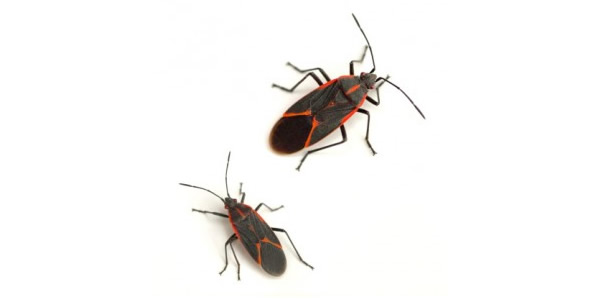 Boisea trivittata
Description
Size: Adults up to 1/2-inch long.
Color: Range from gray to brown-black with three longitudinal red stripes on the thorax, red margins, criss-crossing stripes on the wings and red eyes. The head, legs and antennae are black.
The nymphs (immature stages) are bright red with black wing buds.
Importance
Boxelder bug feeds primarily on the soft tissue of the boxelder tree (Manitoba maple), including leaves, flowers, seeds, and tender twigs, as well as other maple and ash trees. Occasional feeding also occurs on young fruits and leaves of apple, pear, cherry,  peach, plum and grape.  Generally, damage to plants is minimal unless the population soars.
Nymphs mature into adults in fall. As the weather cools, the sun warms the southern side of the structure. The warmth attracts Box Elder bug to such areas. Adults generally overwinter in dry, sheltered places such as in wood piles, behind the siding, up in the attic, but they can crawl inside the structure through cracks and crevices once they are attracted to the buildings. When spring comes, Boxelder bugs leave their winter hibernation locations and lay eggs on the tree.
Boxelder bugs are an annoyance when they are around buildings, especially in large quantity in fall. They are often found gather on house siding or landscape area, usually sunny spot in late spring for mating too. These bugs are capable of staining sidings, wood panels or similar objects with excrements and may produce a foul odor when crushed or disturbed.
Control Methods
To restrict the entry of bugs into the house, ensure all doors and windows are properly sealed and screened.
Repair and caulk all cracks in foundations
Replace weather strip or door sweep if necessary, caulk around exterior door/window
Seal holes and cracks on the outside of the structure, focus on the south and west side where the sun heats in late summer and fall
Be sure that all attic vents and heat vents have tight-fitting screens
Use a vacuum cleaner to pick up congregated insects inside/outside