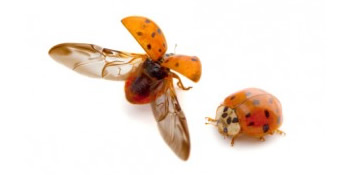 Harmonia axyridis
Description
The multicolored Asian lady beetle is native to Asia but occurs in many areas of the United States now. This beneficial insect was imported and released a few times in attempts to introduce as biological control agent against certain pests such as aphid, scale insects and many other insects in agricultural field, nursery and garden.
Adult beetles are approximately 0.2 to 0.3 inches long. They have a typical domed, round to oval ladybug shape. The name "multicolored" refers to the many different color forms of the adult beetles. The most common colors are red or orange with black spots, black with 2-4 red spots and yellow with faded black spots. Most of them have several spots on the pronotum that fuse into an irregularly-shaped "M".
Control Methods
The best management recommendation is to prevent multicolored Asian lady beetles from entering the structure. Preventive measures include sealing openings, caulking, screening and filling holes, joints with foam filler should be done before late autumn to exclude the beetles. Once inside, vacuuming is the best way to remove them.